EARLY MAPS OF PORTSMOUTH, RI
FOLLOWED BY
HALL LINEAGE TO KINGS AND QUEENS

EARLY MAPS OF PORTSMOUTH, RHODE ISLAND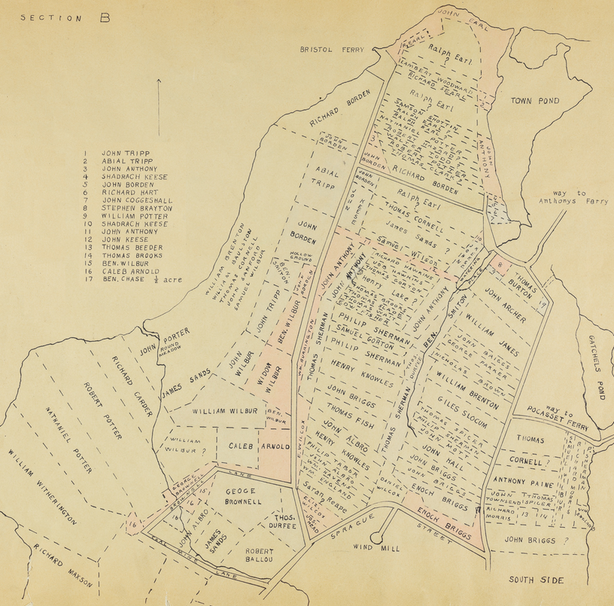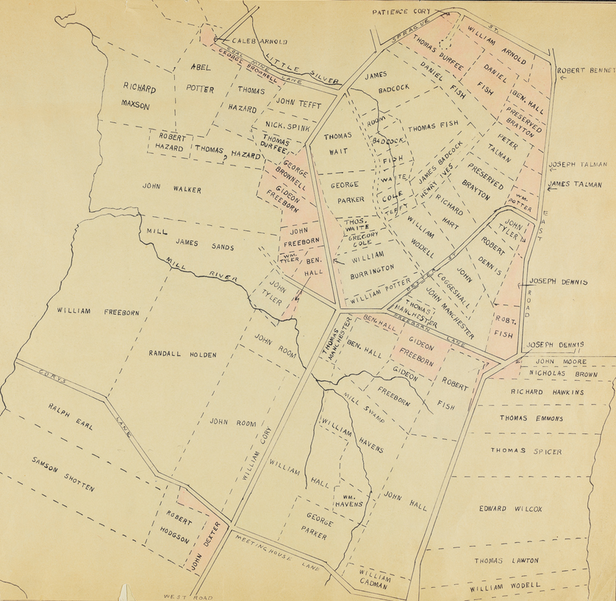 ​HALL LINEAGE TO KINGS AND QUEENS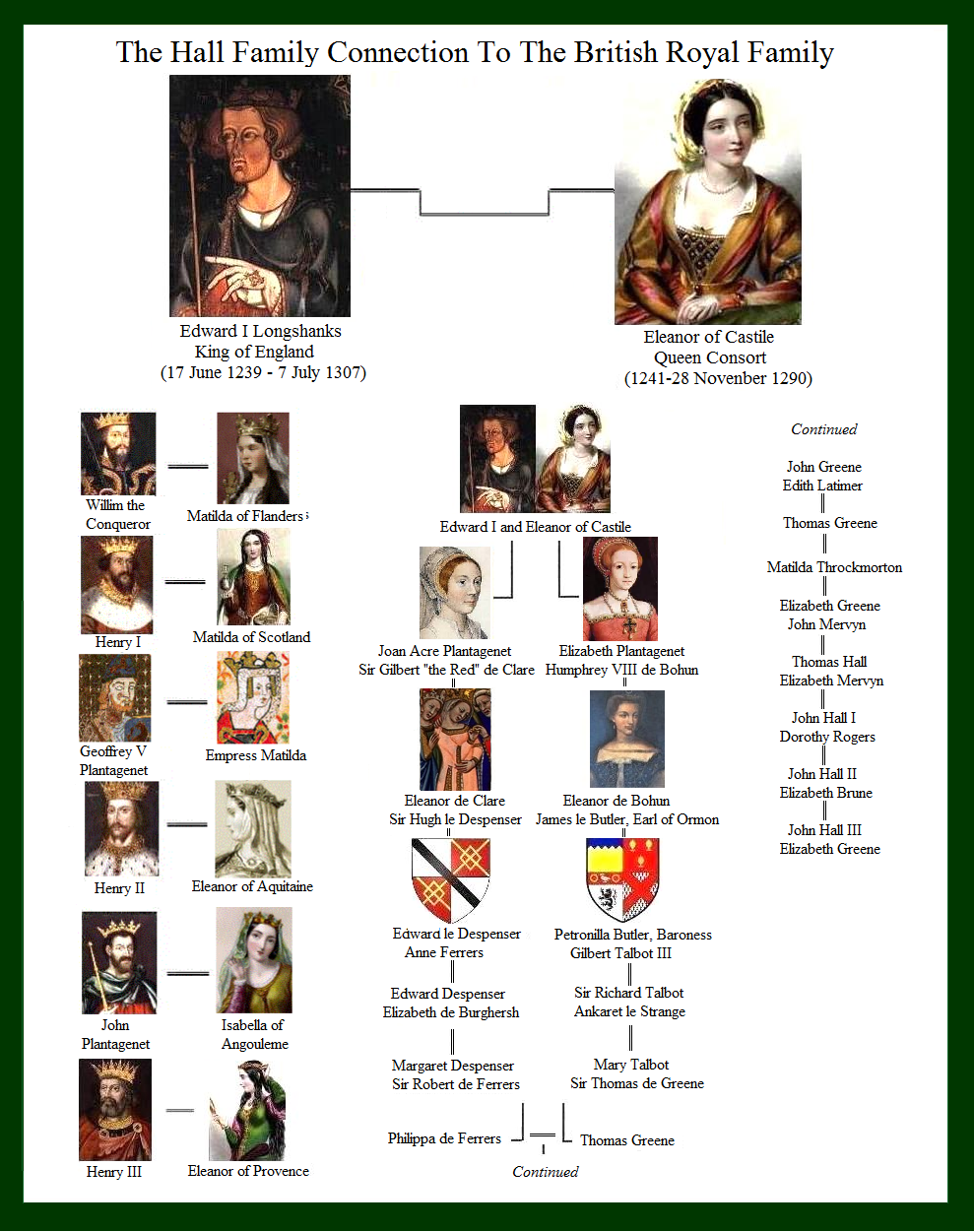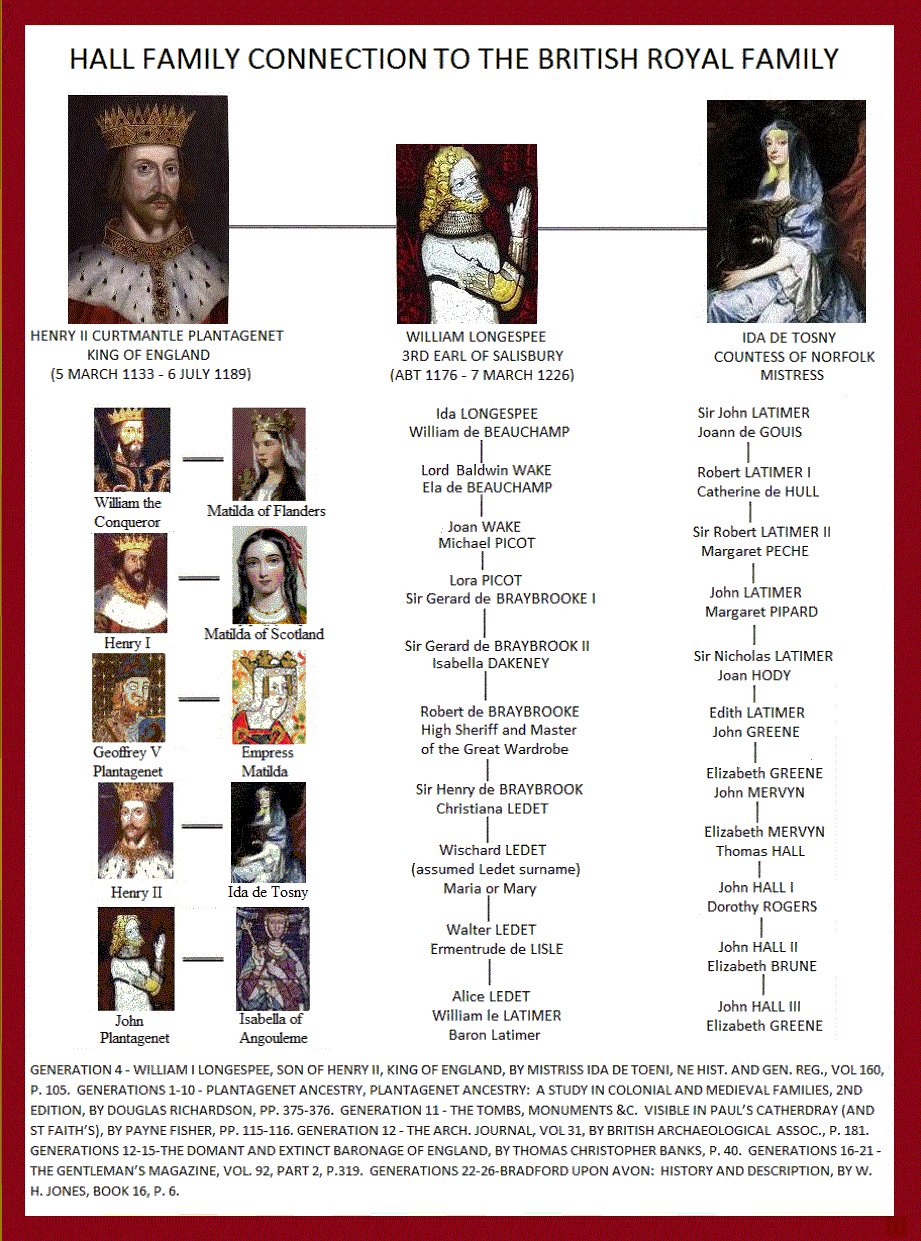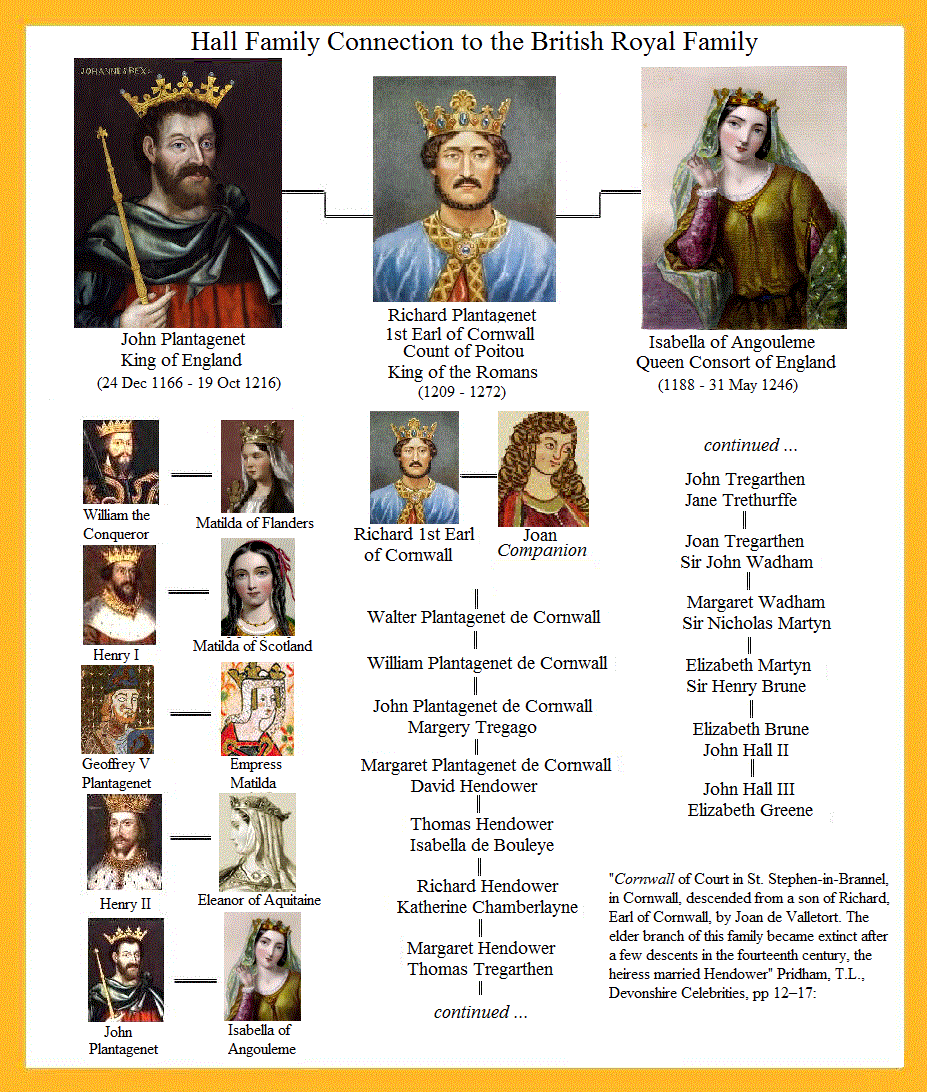 The manor of Brannell was granted by king John [father] to Richard Earl of Cornwall and king of the Romans. ... William de Cornwall of Court in this parish, is mentioned by Prince as first prior of Bewley; and afterwards in 1272, abbot of Newham in Devon. He is represented as living to a great age, and as dying in the year 1320 blind and decrepid. From the family of Cornwall it passed by successive female heirs to the families of Hendower, Tregarthyn, and Tanner. The History of Cornwall: From the Earliest Records and Traditions ..., Vol. 2, By Fortescue Hitchins, Samuel Drew, ​

In 1308 Walter, described as Sir Walter de Cornubia, knight, presented Baldwin capellanus de Branel to the vicarage of St. Stephen in Branel in Poudreschyre. He died in or about 1313 when an inquisition post mortem was held, which showed that at the time of his death he held of the King the manor of Brannel with the advowson of the church there by the service of a yearly rent of 5s., payable to the sheriff of Cornwall for the King's need. The extent of the manor showed that it consisted of a capital messuage, two little gardens, a water mill, a fulling mill, rents of freemen and of conventioners. William de Cornwall, his son, was stated to be 26 years of age. Joan, sister of Walter, and styled by Earl Edmund his sister, married Richard Champernowne and to Richard and Joan Sir Alexander Okeston, having no surviving issue of his own, conveyed the manor of Modbury." From them descended the Champernownes of Modbury and Dartington and inter alios, by the marriage of Sir Pierce Edgcumbe with Johanna Dernford, the Edgcumbes of Mount Edgcumbe. In 1816, William, son of Sir Walter de Cornwall, presented William de Scothowe to the rectory of St. Stephen in Brannel, and in 1320 he had a licence to enfeoff Isabella de Bouleye or Boldhaye of his manor of Brannel, and for her to regrant it to the said William and John his son and the heirs of the said John. This transaction has all the appearance of a marriage settlement, and it is possible that John de Cornwall married Isabella de Bouleye's daughter. Nine years later Isabella was living at Brannel, and had the bishop's licence for an oratory in her manor of Brannel,1, the release of which to the said John de Cornwall does not appear to have been executed until 1343, when Ralph Trejago (de Treiagu) conveyed to him and his wife Margaret the manor and advowson." In 1845 John de Cornwall presented Sir William Robert to the vicarage, and in 1349 Sir Reginald Trevelyan to the vicarage and Mr. Ralph Trejago a go to the rectory of St. Stephen." He died in or before 1861, when his only daughter and heir Isabella presented to the vicarage. The said Isabella, styled variously the Lady of Brannel, Isabella Hendour and Isabella Hendour Lady of Brannel continued to present to the vicarage and rectory until 1394."' Her husband's name is usually given as David Hendower of Wales, and Sir John Maclean cites a fine levied in 1848, in which a David Hendour appears as plaintiff and John de Cornwall as deforciant." If this was in contemplation of a marriage to be solemnized between Isabella and David Hendour or David Hendour's son, Isabella probably lived to be a grandmother, and the very unsatisfactory pedigree given by C. S. Gilbert may contain an element of truth. All that can be certainly affirmed is that Isabella (not Margaret as Gilbert states) married a gentleman of the name of Hendour or Hender, and that her heir was Thomas Hendour, who presented to the rectory of St. Stephen in 1398 and 1418." Journal of the Royal Institution of Cornwall, Vols. 17-18, By Royal Institution of Cornwall, pgs. 419-420.
ANCESTRY OF JOAN, CONSORT OF RICHARD, EARL OF CORNWALL AND KING OF THE ROMANS

ONLY THREE CHILDREN OF RICHARD, EARL OF CORNWALL AND JOAN CAN BE VERIFIED:

1. Sir Richard de Cornwall, Steward of Knaresborough, (1264-1296) m. Joan FitzAlan, daughter of Sir John FitzAlan, Chief Butler of England and Maud de Boteler. "The manor of Brannell was granted by king John to Richard Earl of Cornwall … By Richard it was given to Richard de Cornubia, or Cornwall, his natural son by Joan" The History of Cornwall: From the Earliest Records and Traditions, Vol. 2, Edited by Samuel Drew, pg. 611. They had Sir Edmund, Sir Geoffrey and Richard and a daughter Joan, wife of Sir John Howard. Richard died in 1296 at the Siege of Berwick, Berwick-upon-Tweed, Northumberland, England and his estate was probated on 17 April 1297;

2. Sir Walter de Cornwall, Coroner of Cornwall, (1266-2/20/1313), ancestor of the heiress who married Hendower; his brother, Edmund, Earl of Cornwall, granted 18 Libratas Terrcs in his Manor of Brannel, to his natural brother Waltero de Cornubia jratri srio, (Walter of Cornwall). 1311, Walter, knight of the shire for Cornwall, bore the arms of Richard of Cornwall. (S) The Curisoities of Heraldry, Lower, 2004, P310. The History of Cornwall: From the Earliest Records and Traditions, Vol. 2, Edited by Samuel Drew, pg 36. He had a son William and a daughter Margaret, wife of James Peverell and Richard Sergeaux. Information above states his son William was age 26 when his father Sir Walter Cornwall died in 1313, or born 1287, subtracting 21 years from that date would establish Walter's birth year at 1266. His wife's name is unknown;
​
3. Joan de Cornwall (c1268-) m. Richard Champernowne, Pole (p. 309) reports a grant of 1284/5 in which Joan, wife of Richard Champernoun, is called "sister" by Edmund, Earl of Cornwall, legitimate son of the Earl Richard. Their son was Sir Richard Champernoun, heir of Joan's youngest son Sir James Okeston.

Richard, Earl of Cornwall, (1/5/1209–4/2/1272) married 1st Isabel Marshal (10/1/1207-11/16/1272) of the powerful Marshal family, much to the displeasure of Richard's brother King Henry III, who had been arranging a more advantageous match for Richard. They had a son Henry de Cornwall born 11/2/1235 who survived until age 31 when he was murdered by his cousins. His wife Isabel died due to complications in childbirth on 1/17/1240. King Henry and his wife Eleanor of Provence selected Sanchia of Provence as Richard's next wife, she was Eleanor's sister. In 1247, Richard retired to Cornwall to avoid complications which had arisen between the barons and the king. Sanchia and Earl Richard's son Edmund was born 12/26/1249 (later Earl of Cornwall) and was their only child to survive. Edmund's line died out and his half-brother Sir Richard de Cornwall became his heir.

On 5/27/1257 Richard was crowned King of the Romans, however, like his lordships in Gascony and Poitou, his titles were basically in name only. Sanchia and Richard traveled for the next 15 months before returning to England, and in the fall of 1260 she became ill and died on 11/9/1261. Earl Richard's children with Joan were born after Sanchia's death on 11/9/1261 and before 6/16/1269 when he married his 3rd wife. It appears Joan married her 2nd husband before Richard married his 3rd wife. In 10/1268, Richard returned to Germany and met Beatrice, daughter of Theodoric II, Count of Falkenburg, and soon began negotiating marriage with her. It is felt he was hoping to bring his German subjects closer to him, others say he was attracted to her and was unable to be separated from her for even one night. Richard had a stroke on Dec 1271 and was paralyzed and unable to speak and died 4/2/1272. Beatrice never returned to Germany and died in 1277 at age 23. There was no issue from his 3rd marriage.

Lady Joan (1226-1276), parents unknown, married ca. 1247, Sir Ralph de Valletort (c1220-1259), Lord of Trematon, and had one child Sir Reginald (c1248-1270). Sir Ralph de Valletort died in 1259 when his son Reginald was 11, and as custom, he became a ward of Queen Eleanor of Provence. Joan visited her son while he was living as a ward of the Queen, and by 1263 she was living with Earl Richard in Cornwall. In 1268, King Henry III arranged for Joan to marry Sir Alexander Okeston (c1225-7/1/1285). Joan gave birth to her last child Sir James Okeston in 1269. James, having no issue, made his nephew Richard Champernowne (his sister Joan's son) his heir. Joan may have given up on waiting for Richard to ask for her hand in marriage, or King Henry may have made the decision for them. It's quite possible that Edmund of Almain, son of Earl Richard, b. 12/26/1249 and Reginald Valletort, son of Joan, b. c1248, were close friends while Reginald was a ward of Queem Eleanor.
Possible Ancestors of Joan ...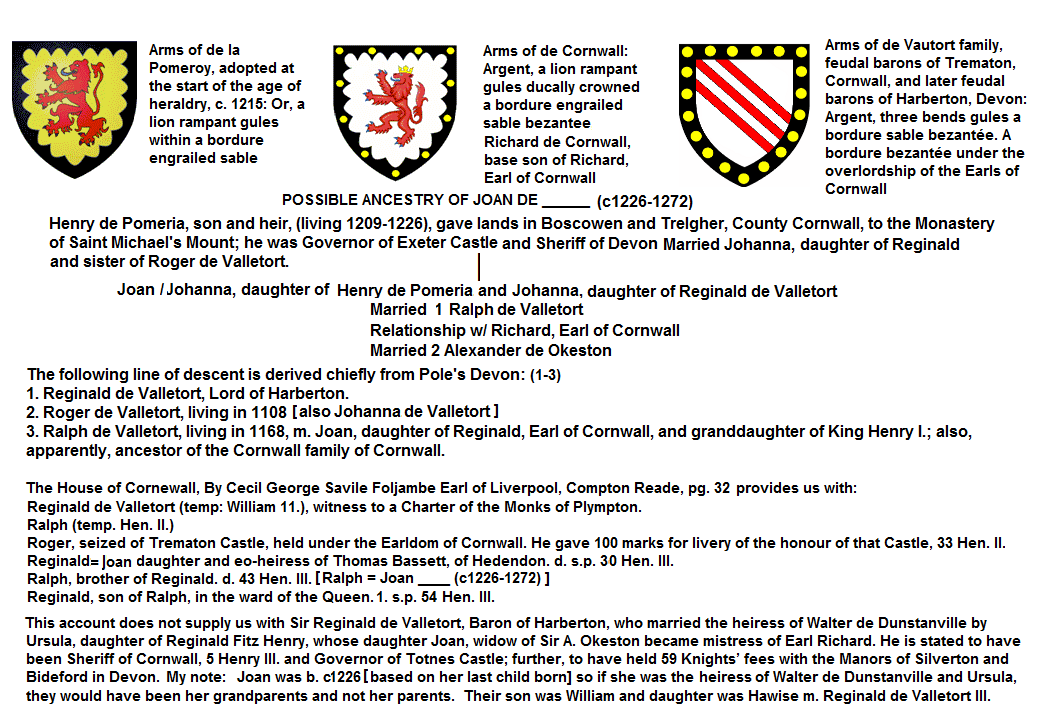 More on Walter de Cornwall:
1307-8, Walter de Cornubia, de Branell, miles: Ermine, a lion rampant gules corwned or, on a bordure engrailed …, eight roundels … (S) The Note-Book of Tristam Risdon, 1897, P209.
10/24/1308, Sir Walter de Cornubia presented Thomas de Branel at St. Stephen's-in-Brannel.
7/13/1309, Baldwin, "capellanus de Branel" inst. at St Stephen's-in-Brannel; patron, Sir Walter de Cornubia, Knt. (S) The Register of Walter de Stapledon, Bishop of Exeter, V2, P258.
7/25/1310, Feoffment by William son and heir of Ralph de Tregod … Withesses: – Sir Walter de Cornwall, Peter de Trelewyth, ...(S) A Desc. Catalogue of Ancient Deeds, 1902, P497.
8/6/1310, Sir Walter de Cornubia, Knight, procured from Bishop Stapledon a licence to have a chantry in Capella sua de Brayneis infra limites ecclesie parochialis. (S) Ecclesiastical Antiquities in Devon, 1840, P15.
1311, Walter, knight of the shire for Cornwall, bore the arms of Richard of Cornwall. (S) The Curisoities of Heraldry, Lower, 2004, P310.
1312 at Westminster, …; Walter de Cornwaille (Cornwall), knight, member of parliament for Cornwall; James Peverel, knight, member of parliament for Cornwall. (S) UKNA.
Bef. 2/20/1313, Walter, knt. of Branell, Cornwall died; William his son, aged 26, is his next heir. (S) CIsPM.
(S) Plantagenet Ancestry, P406.