HALL FAMILY HISTORY
HALL VIKING LINEAGE
Wanda Ware DeGidio wwdegidio@gmail.com hallfamilyname.com
ROGNVALD "THE WISE" EYSTEINSSON (c840-c890)

The Heimskringla Saga provides us with information about the children of Rognvald "The Wise" Eysteinsson, jarl of More, son of Eystein "Glumra" Ivarson and Ascrida Ragnvaldsdottir. Sons with his first unnamed wife, the daughter of 2 slaves, were married under "more Danico" in the typical Danish custom of the time.

1. Hallad Rognvaldson, (c864-c920) "Malahulc" (meaning a strong person to be feared), was the 4th earl of Orkney.
2. Hrollaug / Hrollagur "Drogo" Turstain / Thorstein (meaning place of Thor) Rognvaldson (c866-896), married Emina, daughter of Baldwin I, Count of Flanders and Judith Carolingian (844-879). Judith was the daughter of King Charles II of France, (a half-brother of Luitgarde), and Ermentrude, Countess d'Orleans. Judith was previously married to 2 kings of Wessex, father and son, Ethelwulf and thelbald. After their death, she eloped with Baldwin I against her father's wishes, and with help of the Pope, she was forgiven and her father made Baldwin I count of Flanders. Charles II, King of France and Luitgarde were children of Herbert II, Count of Vermandois. Luitgarde (c916-2/9/977) was also the wife of William I, son of Rollo, half-brother of Drogo. Rollo allotted Drogo the northern district of La Manche in the division of Normandy in fiefs.
3. Einar Rognvaldson (c868-), was the 5th earl of Orkney

Rognvald's sons with his second wife Ragnhild "Hild" Hrolfsdottir (c840-), daughter of Hrolfr Nefja, earl (jarl) of Throndjem and Asseline Ragnaldsdottir:

4. Thori Rognvaldson "the Silent" (c870-)
5. Ivar Rognvaldson (c872-) earl (jarl) of More
6. Hrólfr Rognvaldson "Rollo the Granger", (c874 Orkney Islands, Scotland-c932 Normandy, France), married Poppa de Valois, daughter of Pepin de Senlis de Valois, Count of Berenger of Bretagne and Count of Bayeux, and sister (or half-sister) of Bernard of St. Liz (Senlis) Vermandois. His daughter Adele married William, Duke of Aquitaine. The 9th century Anglo-Saxon Chronicle is the earliest record of Rollo. "A.D. 876. This year Rolla penetrated Normandy with his army, and he reigned fifty winters." The year 876 is inaccurate as his fathers year of birth is closely estimated to be 845 based on his relationship with Harald Fine Hair, Duke of Norway, and recorded events at that time.
The Heimskringla Saga tells us Rognvald Eysteinsson (meaning son of Eystein) gave Harald "Finehair" his byname after cutting his hair. Harold had vowed not to cut his hair until he became ruler of all Norway. The fact that Rognvald was given this honor speaks of the friendship between these two men.

Ragnvald sent his son Hallad to Orkney upon the death of his brother and nephew and soon after King Harold bestowed the title of 4th earl of Orkney to Hallad who "took up residence on Mainland." Orkneyinga Saga records that, following complaints by farmers about Viking raids, Hallad, "tiring of his rule, gave up the earldom and when back to Norway as a common landholder" which "made him a laughing stock."

After hearing of Hallad's return home, Rollo immediately stepped forward and demanded the lordship. His father told him that although he was strong in mind and body, and well-trained in combat, that he was better suited to be the leader of a country.

Einar next made a request to become the 5th Jarl of Orkney, and the Saga's tell us, "Ragnvald agreed and said it would please him well that he should not come back, for I little think that thy kin will get honor from thee, for the mother you have, slave-born on each side of her family, you are not likely to make much of a ruler of much else." To everyone's surprise, Einar became a strong ruler with a very large following.

Rollo was upset that his father selected a son conceived out of wedlock to the succession in exclusion of him. He then assembled a ship and gathered a company of strong men to join him on the seas to pillage and raid, an honorable profession among the Northmen. Rollo and his men landed on the island of Vigen and plundered a Norwegian village belonging to his fellow countrymen in strict opposition of king Herold's law. Upon learning of Rollo's defiance, the king caused a court of justice to be held and banished Rollo from Norway. Rollo made his way to the coast of Scotland and found a large community of fellow Northmen who became allies. The Chronicles of England tell us that during the reign of Alfred, "Rollo and his gang: landed in Britain, "and started to harry the land." King Alfred was able to satisfy their demands, and was pleased when they pointed their ships in the direction of France. Reaching France in 911, Rollo besieged Paris and Chartres, and as a compromise with king Charles the Simple, they granted the fiefdom of Normandy in exchange for Rollo and his men defending the shores of the Seine river against all invaders.

The Viking Age in Caithness, Orkney, and the North Atlantic, By Colleen E. Batey, Judith Jesch, Christopher D. Morris, page 245, states, "What happened to Halladr, the brother who gave up the earldom, we do not know." We first hear of Malahulc when Roger de Toeny is described by William of Jumièges as 'de stirpe Malahulcii, qui Rollonis patruus fuerat, et cum eo Francos atterens, Normanniam fortiter acquisierat,' that is, Rollo was of the stock of Malahulc. Per "Charterss and Records of Neales of Berkeley, Yate and Corsham," By John Alexander Neale, pp 149-151, "Malahulc had 3 sons: (1) Richard of St. Sauveur, ancestor of the Viscounts of the Cotentin and of the Albinis, Earls of Arundel; (2) Hugh, Sire of Cavalcamp, ancestor of the families of Toeni and Conches; (3) Rodolph, Count of Bayeus, ancestor of the Earls of Chester, and the father (?) of Bothon, Count of Bessin and Bayeux." John Alexander Neale refers to him as, "Malahulc, called Halduc de Tresny or Toesni, descendant of Thor, father of Richard St. Sauveur." According to Neale, Richard received a grant from Rollo of half the Isles of La Manche, and his brother Rodolph received the other half. By 933, Richard de St. Sauveur, Viscounte of the Cotentin is said to have holdings of nearly a third of Normandy.

Thurstain Hrolf Rollo "Bigod" is not mentioned in the early sagas, and any connection to Hrollaug Ragnvaldsson seems to have originated from other sources. From, The Conqueror and his companions, Volume 2, By James Robinson Planché (paraphrased): Hrolf Turstain followed Rollo into Normandy and secured the hand there of Gerlotte de Blois, daughter of Count Thibaut [Theobald] de Blois et Chartres. Hrolf was "the foundation of this branch of the great Norse family in Normandy, and the stock from which descended the Lords of Briquebec, of Bec-Crispin, of Montfort-sur-Risle, and others who figure as companions of the Conqueror."

The third son of Hrolf Turstain and Gerlotte was Ansfrid I, le Goz, (c937-c979) "the Dane", the first vicomte of the Hiemois, Count of d'Exmes. Ansfrid I married about 965 in Tillieres, Helloe, (c950-1032), daughter of Count Godfrey de Beaulac, de Tillieres and Mathilide de Luxemburg. Source: Two Thousand Years One Hundred Generations Again, by Robert Page, pg 89.

Hrolf Turstain and Gerlotte's grandson, Ansfrid II, (called le Goz) was father of Thurstain le Goz, a trusted aide to Duke Robert of Normandy who accompanied him to the Holy Land and was entrusted to bring back to the Abbey of Cerisi the relics the Duke had obtained from the Patriarch of Jerusalem.

​Hugh the Great and Richard I, duke of Normandy, were close after William's death at the hands of Arnulf I of Flanders. Hugh became Richard I's protector and later Richard I became the protector of Hugh's son, the future king of France. Richard I also married Emma in 960 (she died in 968) daughter of Hugh the Great and Hedwig of Saxony. Hugh the Great married Hedwig shortly after the death of Gerlotte which occurred about the time of Ansfrid I's birth. With the rarity of the G2a haplogroup, there is little doubt that Ansfrid I was the son of Hugh the Great since the ancestors of Warin de Halla are of this same rare haplogroup. Hugh the Great was the third times great grandson of the Emperor Charlemagne.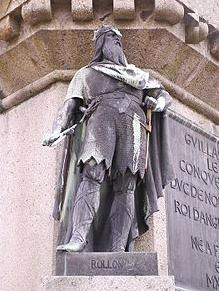 ROLLO THE VIKING (c874-c932)

Rollo is first mentioned in French documents in 918 in a charter of king Charles 'the simple' where Charles grants the lands of an abbey "except for the part that we have given to the Northmen of the Seine, namely to Rollo and his companions." The writer Flodoard mentions him three times, in 918, "Af0ter the war that Count Robert (Rollo) waged against the Northmen at Chartres, ... they agreed to take up the faith of Christ." In 924 he writes, "The Northmen entered peace with the Franks through the oaths of 0Counts Hugh and Herbert and also Archbishop Seulf, in the absence of King Ralph; but with Ralph's consent the lands of Maine and the Bessin were conceded to them in the peace-treaty." And lastly in 927, "the son of Rollo committed himself to Charles and confirmed friendship with Herbert." Rollo's son William 00became ruler of Normandy after his father's death.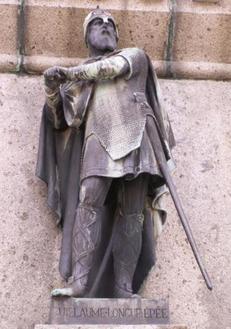 WILLIAM LONGSWORD (c900-12/17/942)

William Longsword was the second ruler of Normandy from about 933 until his assassination in 942. He is sometimes referred to as the "Duke of Normandy," even though the title duke did not come into common usage until the 11th century.

Immediately after he succeeded his father, there was a rebellion of his own people because some of them believed he had become too French. Most of William's career was spent in relative obscurity, but in the late 930's he suddenly emerged onto the stage of Frankish royal politics. Two things brought him into the political forefront, his war with Arnulf of Flanders and his support for King Louis IV.

William's father Rollo was still living in 928 and before 933. He had gradually transferred authority to William before his death, and William was recorded as the leader of the Normans, by Flodofard in 933.

William Longsword was involved in a war in the late 930's against Arnulf I, "The Great", Count of Flanders. Some sources state that a peace conference was held in December 942, and that Arnulf I arranged for the murder of William Longsword at that time. Other sources state that Arnulf waged war against William of Normandy, whom he defeated and slew.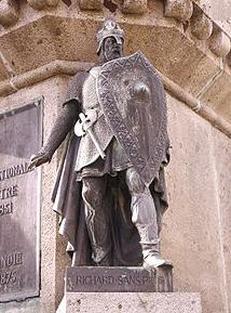 RICHARD I THE FEARLESS (8/28/932-11/20/996)

Richard I of Normandy, called Richard the Fearless, was the Duke of Normandy from 942 to 996. His father was killed on 17 Dec 942, when he was just 10 years old. He was born to William I, ruler of Normandy, and Sprota.

Flodoard of Reims says, "William's son [Richard] was born of a Breton concubine." Other sources claim she was captured in war and bound to William by a Danish marriage. William was told of the birth of a son after the battle with Riouf and other Viking rebels.

Richard's existence was kept secret until a few years later when William Longsword first met his son Richard. At that time, he kissed the boy and declared him his heir, William sent him to be raised in Bayeux. Upon William's death, Asperleng, a very wealthy miller; took Sprota into his protection and she shortly became his wife. Rodulf of Ivry was one of their sons and Richard's half-brother.

After his father's death, Louis IV of France seized Normandy, installed the boy Richard in his father's office then placed him in the care of the count of Ponthieu. The king then split the lands, giving lands in lower Normandy to Hugh the Great. Louis kept Richard in confinement at Lâon, but with the assistance of Osmond de Centville, Bernard de Senlis, Ivo de Bellèsme, and Bernard the Dane, he managed to escape.

Bernard de Senlis (St. Liz) was the brother of Poppa and thus Richard's great uncle. Bernard and Rollo are known to have been companions before Rollo's death, and afterward Barnard became an unwavering protector of both Rollo's son William and grandson Richard.

In 946, Richard, undoubtedly with the urging of his great uncle, agreed to "commend" himself to Hugh, Count of Paris. He then allied himself with the Norman and Viking leaders, drove Louis IV out of Rouen, and took back Normandy by 947.

In 962 Theobald I, Count of Blois attacked Rouen, Richard's stronghold, but his army was defeated by the Normans and he retreated never having crossed the Seine. Lothair king of the West Franks stepped in to prevent any further wars between the two.

Afterwards, and until his death in 996, Richard concentrated on Normandy itself, and participated less in Frankish politics and petty wars. In lieu of building up the Norman Empire by expansion, he stabilized the realm, and united his followers into a cohesive and formidable principality.

Richard used marriage to build strong alliances. His marriage to Emma connected him to the Capet family. His wife Gunnor, from a rival Viking group in the Cotentin, formed an alliance to that group, while her sisters form the core group that was to provide loyal followers to him and his successors. His daughters provided valuable marriage alliances with powerful neighboring counts as well as to the king of England.

Richard also built on his relationship with the church, restoring their lands and insured the great monasteries flourished. His reign was marked by an extended period of peace and tranquility.

His first marriage in 6/16/956 was to Emma (945-968), daughter of Hugh the Great of France, and Hedwig von Sachsen. They were betrothed when Richard was 24 and Emma was 11. It appears the marriage was never consummated as Emma died without issue on 3/19/968.

According to Robert of Torigni, Richard met Gunnora while out hunting and she became his mistress, and her family rose to prominence. Gunnora was of Viking descent like Richard, being a Dane by blood. They eventually married after Emma's death to legitimize their children. Richard died on 12/29/996 at the age of 64 at Fecamp of natural causes.

The ecclesiastical history of England and Normandy, By Ordericus Vitalis, pg. 334, states that Geoffrey was count of Brionne, son of Richard, Duke of Normandy and father of Gilbert. In the book, Transfers of property in eleventh - century Norman law, By Emily Zack Tabuteau, pg. 303, it states, "Gilbert was the son of Geoffrey count of Eu," indicating that Geoffrey was a son of Richard, Duke of Normandy.

The painting above is a version of the one completed in the 11th century, the only difference is this one includes all of Richard's 11 children. In the original the children shown were Richard II, Robert, Mauger, William, Emma, Hawise and Maud. Dudo IV, 125, pg. 163-164, informs us that Gunnora is documented to be the mother of five sons and three daughters with her husband Richard the Fearless. Guillaume de Jumièges names six children: Richard II, Robert, and Mauger, Emma, Hawise and Maud, giving their marriages, and states that Richard had two sons named Geoffrey and William and two daughters by mistresses. In a charter by Gunnora following Richard's death, she mentions her sons Richard and Robert and the document was witnessed sons William (Willelmi), Mauger (Maalgerii), and Geoffrey (Godefridi).

Richard's marriage to young Emma was more for their protection, and to keep a promise Hugh the Great made to Richard's father. From Richard's first mistress he was the father of Beatrice and Papia, with this relationship likely ending from her early death (most likely during childbirth). His next mistress was Gunnora, said to be of Danish origin, and together they were the parents of eight children (which agrees with Dudo). After Emma's death, they married to legitimize their children. There is a strong possibility that there was another relationship with a British noble lady later in his life, which resulted in the birth of a daughter named Wymarcha, later the wife of Ansfrid II.

CHILDREN:
1. Richard II, Duke of Normandy, (8/23/963-8/28/1026/27), m. Judith of Brittany (c963-8/28/1027)
2. Robert of Normandy, (c965-1037), Archbishop of Rouen, Count of Evreux, as the second son, he was raise by hisfather to the archiepiscopal see of Rouen (989-1037) to which he was devoted, he wed Herleva [daughter of Sprota and Asperling de Vaudreuil]. He converted Olaus, a Northman King, to Christianity; and founded the Church of Rouen. 3. Godfrey, Count of Eu (c967-c1015), he is named son of duke "Richard the elder" by Orderic Vitalis, who specifies that his father gave Brionne "with the whole county" to him as Comte de" Eu after 996. Robert of Torigny names him as "unus Godefridus alter … Willermus" as sons of Richard, Duke of Normandy. Geoffrey married about 961 to Heloise, daughter of Sigfrid, Count of Guines and Elstrude de Flanders. Elstrude was the daughter of Arnulf I of Flanders and Adele de Vermandois and granddaughter of Baldwin II, Count of Flanders and Aelfthryth, daughter of king Alfred of England.
4. Mauger of Normandy, (c969-) Earl of Corbeil m. Germaine de Corbeil
5. William, Count of Eu (c971-), Robert of Torigny names him as "unus Godefridus alter … Willermus" as sons of Richard, Duke of Normandy m. Lasceline de Turqueville
6. Maud of Normandy, (c975-) wife of Odo II of Blois (c970-11/15/1037)
7. Hawise of Normandy, (c977-2/21/1034) m. Geoffrey I, Duke of Brittany (c975-c1028
8. Emma of Normandy, (980-3/6/1052) m. Ethelred II and his son Canute, Kings of England

Richard's children with two other mistresses were: Papia (c951-) who married Gilbert of Ste. Valery; Beatrice (c953-) who married Ebles Turenne; and possibly Wymarcha (Gumara) (c986-) who married Ansfrid II (c966-1054).

GODFREY FITZ RICHARD (c967-c1015)

Godfrey, or sometimes Geoffrey, Fitz Richard, Count of Eu and Brionne, was the son of Duke Richard I of Normandy and Gunnora. He is often referred to as the illegitimate son of Richard I, meaning a person who is illegitimate at birth. Emma, daughter of Hugh the Great died 3/19/968, which means Richard II, born 8/23/963, was also illegitimate. Gunnora and Richard I eventually married after Emma's death, and Richard II was then considered legitimate and became ruler of Normandy. This has caused a great deal of confusion among historians as to whether or not Godfrey was the son of Gunnora.

Godfrey married Heloise, daughter of Sigfrid, count of Guines, and Elstrude de Flanders. Elstrude was the daughter of Arnulf I of Flanders and Adele of Vermandois, and the granddaughter of Baldwin II, count of Flanders and Aelfthryth of England. Aelfthryth, also known as Eltrudes (Latin), was the daughter of king Alfred the Great of England and Ealhswith. Baldwin II's mother, Judith of France, was for a brief period of time stepmother and then sister-in-law to Aelfthrgyth's father, Alfred the Great. Ealhswith, died 12/5/902, the daughter of a Mercian nobleman, Aethelred Mucil, Ealdorman of the Gaini and Eadburh, a member of the Mercian royal family, according to historian Cyril Hart she was a descendant of King Coenwulf of Mercia.

The county of Eu was created for Godfrey by his brother Richard II of Normandy in 996 as part of Richard's policy of granting honors and titles for cadet members of his family. The citadel of Eu played a critical part of the defense of Normandy; the castle and walled town were on the river Bresle, just two miles from the English Channel. It had long been one of the first places attacked in time of war.

The castle of Brionne had long been held by the Dukes of Normandy as one of their own homes, but Richard II also made a gift of Brionne to his brother Godfrey, who held it for life passing it to his son Gilbert and was only returned to the demesne of the Duke after his murder.

Geoffrey and his son Gilbert are styled counts in a diploma given by Richard II, in lieu of territorial designation. Wikipedia and Yorkshire Archaeological Journal, Vol. 9, p. 262.

CHILD:
1. Gilbert fitz Godfrey, succeeded his father as Count of Eu and Brionne.

GILBERT FITZ GODFREY (c990-7/2/1040)

Gilbert Count Of Eu succeeded his father at Brionne and Eu, but he soon quarreled with his uncle Count Richard II, and was deprived of his patrimony. Afterwards he regained his position, and in the reign of Count Robert was in high favor at Court, when the Castle of Brionne was restored to him; but the County of Eu had been in the meanwhile given away by Count Richard II to another member of the family, and neither Gilbert nor his descendants ever recovered possession of Eu.

As Count Robert started his journey to the Holy Land in 1035, Gilbert was selected as a guardian and tutor of the young Count William [later known as William the Conqueror], and for the next five years Gilbert was among the most powerful nobles in Normandy.

A number of Norman barons including Ralph de Gacé would not accept Robert's illegitimate son as their leader. In 1040 a foiled attempt was made to kill William with Gilbert diligently protecting his charge. During this time, Gilbert plundered the orphan heirs of his neighbor the Sieur de Montreuil, and as a consequence was cruelly murdered in 1040. King William retained to the last a kindly recollection of his guardian, for when the king on his death-bed was recounting the horrors of his early life, he mentions Count Gilbert "the father of his country" amongst the pillars of the State who were murdered by his enemies.

After Gilbert's death, his sons Richard and Baldwin were taken to be raised by Baldwin, Count of Flanders, to keep them from meeting the same fate as their father. They returned to their native country when William [the Conqueror] married Matilda of Flanders, and by Count Baldwin's intercession they were returned to as much of their father's fief as had not been otherwise disposed of.

Richard fitz Gilbert received the fiefs of Bienfaite and Orbec, and after the conquest was given Tunbridge Castle in Kent as compensation for his hereditary claims to the Castle of Brionne. Baldwin fitz Gilbert received Meules and Sap, and he was allowed to marry a close relative of his Sovereign. His wife Albreda was a granddaughter of Count Richard II, and a sister of Guy of Burgundy the rebel Constable of Brionne Castle, exiled from Normandy in 1050.

Richard and Baldwin fitz Gilbert were prominent in the conquest of England, and were not forgotten in the division of the spoil. They both founded powerful families. Richard was the ancestor of the great house of Clare, and amongst the honors of the Courtenays in later times. Baldwin was styled fitz Count Gilbert and Sheriff of Devon and became a generous benefactor to Bec Abbey founded by his former knight Herliun in 1031.

Sources: Wikipedia and Yorkshire Archaeological Journal, Vol. 9, p. 262 and 263.

The Journal of the Archaeological Association, pg. 216, mentions the error of Cleaver in his History of the Courtenay Family in his statement that Richard de Redvers left no issue. He states Gilbert's sons, Richard and Baldwin succeeded him and Baldwin was called Baldwin de Brionne or de Molis from Meules in Normandy, while his son Richard was succeeded by his son Baldwin who was banished from England in 1136 after he backed Henry II.

CHILDREN:
1. Sir Richard Fitz Gilbert de Clare (c1023-c1090), m. Rohese Giffard
2. Baldwin fitz Gilbert de Brionne (c1025-c1090) m. Emma d'Avranches
3. Heslia "Elise" fitz Gilbert m. William Malet

BALDWIN FITZ GILBERT (c1025-c1090)

Baldwin Fitz Gilbert de Brionne de Meules de Moles b. c1025 and died 1090, was a Norman nobleman, the son of Gilbert, Count of Brionne who, along with his brother Richard Fitz Gilbert, accompanied William, Duke of Normandy and participated in the conquest of England in 1066. He was also known as Baldwin de Meules et du Sap, Baldwin of Exeter and Baldwin the Sheriff. Baldwin was granted 164 manors in Devon, south west England. He was originally from Meules.

In 1067 William the Conqueror made Baldwin castellan of the newly built Rougemont Castle in Exeter, granted him the feudal barony of Okehampton, Devon, and appointed him High Sheriff of Devonshire, a position he held until his death. He was the builder of Okehampton Castle.

Baldwin married Emma, daughter of Thurstan Haldup, le Goz, d'Avranches, de la Haye and Emma de Balts. Thurstan was the son of Thurstan le Goz, de la Haye, count of Hiemois, Gov of Falaise and Judith Montanoiler and grandson of Ansfrid II and Wymarcha.

William himself, in his charters to the church of the Holy Trinity at Caen, in 1066, he being then duke of Normandy, calling the lady, Emma .... "Baldwinus filius Gisleberti comitis mar ejus Emma pro animarum redemptione, etc." And afterwards, when king of England, in 1082, in a confirmation charter to the same church, he reports the gifts of Baldwin Fitz Gilbert, and Emma, his wife ... Pere Anselme, in his Histoire Généalogique, meets the latter difliculty by giving Baldwin two wives, Albreda and Emma; but supports his opinion by no authority. The above charters are, however, definitive as to his having a Wife named Emma, and that is the extent of the positive evidence we have on this point of our inquiry.

That Baldwin Fitz Gilbert was, however, sheriff of Devon, holding Oakhampton of the king in capite, there is abundant proof .... He was himself of the blood of the old dukes of Normandy, being the son of Gilbert, son of Godfrey, count d'Eu, .... son of duke Richard I. G. ... his second son, Robert, as we have seen, although he speaks of his father having married the cousin of the conqueror, does not call 'her his mother, nor by naming her enable us to identify her either as Albreda or Emma. ....it is quite clear that Richard de Redvers, ... died in 1107, and was buried at Montebourg, an abbey in Normandy, of which he appears to have been one of the earliest benefactors, if not the founder, by permission of William the Conqueror, in 1080. The top of his stone coffin was preserved from destruction by Mons. de Gerville, and the epithet, "Fundator," is said to be still visible upon it. In the foundation charter to Monteburgh, "Signum Richardi de Redvers" occurs before those of earl Simon and earl Eustace; and following theirs We find "Signum Bald' filii Ricardi de Redvers. Signum Willermi fratre ejusdem Bald'." Amongst the subsequent witnesses are William Estur, Humphrey de Bohun and Alfred de Lincoln (Gallic Christiana, vol. xi, p. 238).

CHILDREN:
1. Emma fitz Baldwin de Redvers (c1045-8/11/1142)
2. Robert fitz Baldwin Gov of Brionne b. c1055
3. Richard fitz Baldwin de Redvers b. 1057 d. 1107
4. William fitz Baldwin b. c1059

EMMA FITZ BALDWIN DE REDVERS (1045-1142)

Emma, daughter of Baldwin fitz Gilbert de Brionne de Meules de Moles, married first William Avenel, by whom she had Ralph Avenel, and secondly William fitz Wimund, Halduc, le Goz, lord of Haye Paynel, by whom she had Robert. William fitz Wimund was born in Avranches, Normandy, and was, according to Ordericus Vitalis, the son of Wimund, and a blood relation to Richard de Goz, father of Hugh d'Avranches, the famous Earl of Chester. William made lord of the manor of Houghham (near Dover) together with other manors, and was one of Hugh's eight knights and was warden over Dover Castle under John de Fienne.

CHILDREN:
1. Ralph Avenel b. c1063
2. Robert fitz William, d'Avranches, Abrincis, b. c1066 d. c1130, lord of Okehampton, Devon, England

Emma was the sister of Richard fitz Baldwin de Redvers (1057-1107) who is found holding Mosterton in Dorset in 1084 and 1086. In 1090 he was one of those barons of the Cotentin who supported Henry 'Beauclerc' against his brothers, and this proved the foundation of his fortunes, for Henry, on his accession, endowed him with lands in England. Richard, in return, supported him staunchly, and was one of his trusted advisers.

Richard died in 1107 and was buried at the abbey of Montebourg, in Normandy, of which he is deemed the founder, though he had merely been given its patronage by Henry who had given it some lands. Henry had also given him Twinham Priory, Hampshire, which he endowed with lands in the Isle of Wight on obtaining lordship.

By his wife Adeliza, daughter of William Peverell of Nottingham, who gave her marriage portion, the manor of Woolley, to Montebourg after his death in 1097, he left three sons— Baldwin de Redvers, his successor, William de Vernon (so named from the castle of Vernon), his heir in Normandy, and Robert Ste. Mere Eglise, who received the manor of that name, and a daughter Hawise, wife of William de Roumare, earl of Lincoln. Their mother's letter to the bishop of Exeter is found in Sarum Charters.

His successor, Baldwin, the 1st Earl of Devon (d. 1155), left issue (with William, afterwards 5th earl) a son and heir, Richard, who was sheriff of Devon (as 'Ricardus Comes') in 1155-6, and as Richard 'de Redvers' in 1166-7; he is reckoned the second Earl of Devon. An interesting writ was addressed to him by the king as Richard 'de Redvers' only, in April 1157, in favour of Montebourg Abbey. He died in 1162, leaving by Dionys, daughter of Reginald, earl of Cornwall, two sons, Baldwin and Richard, who succeeded him as third and fourth earls of Devon. On the death of the latter without issue (1184) the succession opened to his uncle William (d. 1216).

Stapleton doubted whether this William was really styled, as alleged, 'de Vernon;' but a Montebourg charter of 1175 clearly distinguishes him as William de Vernon 'junior,' from his uncle, William de Vernon 'senior' (a justiciar of Normandy), whose son Richard had at that date succeeded him. It was, however, as William ' de Redveriis,' earl of Devon, that he made a grant to 'Domus Dei,' Southampton, still preserved at Queen's College, Oxford, the seal of which shows the family device, a griffin clutching a hare. Though Hoveden styles him ' Earl of the Isle of Wight' (of which he was lord) at the coronation of Richard I, it was not till 28 April 1194 that the king granted him, as ' Earl William de Brion, the tertius denarius of Devon as his father Baldwin and predecessor Richard had held it. Dying at a great age in 1216, he was succeeded by his grandson Baldwin, whose son and namesake was the last earl (1246-1262). His sister and heiress Isabel, countess of Albemarle, who styled herself occasionally Countess of Devon, died in 1293, immediately after selling her hereditary lordship of the Isle of Wight to the crown; she left no issue. Source: The Dictionary of National Biography, Vol. 16, By Stephen (Sir Leslie), Robert Blake, Christine Stephanie Nicholls, p. 828. His children: Baldwin de Redvers, his successor b. c1088, William de Vernon, his heir in Normandy b. c1090, Robert de St. Mere Eglise, b. c1092, rec'd a manor St. Mere Eglise, Hawise de Redvers, b. c1094 wife of Wm de Roumare, Earl of Lincoln.
ROBERT FITZ WILLIAM FITZ WIMUND D'AVRANCHES, ABRINCIS (c1066-c1137)

After the death of his father, William fitz Wimund, Robert became closer to his uncle Richard fitz Baldwin de Redvers, and his cousins Robert St. Mere Eglise, Baldwin de Redvers, William de Vernon and Hawise de Redvers. And, through a series of well-played events by the royal family, Robert became Lord of Okehampton in Devon, England. The name of his first wife is unknown, but a number of documents provide the name of his second wife, and the mother of Matilda as Hawise, daughter of Geldwin de Dol and Noga Tinteniac.

The marriage to Hawise de Dol occurred when Robert was about 63 years old and it was arranged by king Henry I, much to the displeasure of Robert fitz William. After being told of this arranged marriage, king Henry I was displeased at Robert's anger and maleviolence toward the daughter of Geldwin de Dol he was and fined 170 marks of silver. Needless to say, king Henry I was the master of arranging marriages for profit, political favors and for securing the future spouses of his many legitimate and illegitimate children and grandchildren.

CHILDREN:
1. Warin de Aula / Halduc / Halla (c1110-1182), son and heir
2. Robert de Aula b. c1112
3. Matilda fitz Robert, d'Avranches, du Sap, b. 1130, daughter with 2nd wife Hawise, a daughter of Geldwin de Dol and Noga Tinteniac. The honor of Okehampton passed to Robert fitz Roy, a natural son of king Henry I, after he married Matilda fitz Robert, d'Avranches.

​